Hotel review: Dubai's 7-star Arabian Tower, Burj Al Arab
'Burj Al Arab' roughly translates to Arabian Tower, and if you don't know the hotel by name, you will undoubtedly recognise the shape of the iconic, billowing dhow sail shape.
In September 2018, we were in Dubai visiting family, and Jumeirah kindly offered to host us for a few nights at the Burj al Arab hotel. Calling it a 5-star deluxe property does it no justice.
Day 1 - Arrival
After a controlled security checkpoint, we drove over a short 100-metre curved bridge and pulled up to the hotel entrance, feeling slightly out of place in our little rental car, surrounded by Ferraris and other supercars. The hotel has a fleet of white Rolls Royce Phantoms lined up ready for airport transfers and local journeys.
Walking past the many door staff and into the vast 180-meter tall atrium, suddenly the magnitude of this hotel hit us. The hotel is the tallest all-suite hotel in the world standing at 321 metres but with only 202 rooms, or should I say duplex suites.
We were ushered to a sofa on one side of the lobby and brought some dates, water and cold scented towel to refresh from September's autumn heat outside.
Check-in
Having been escorted up to the 18th floor, we presented our passports to the reception desk (each of the 24 floors has a dedicated desk) and met our butler. After a tour of the suite, the butlers brought us some complimentary fruit juices and completed the check-in formalities in the office. The suite's own office.
The Room
Our two bedroom deluxe suite was the second biggest suite I've personally stayed in, and the kids were super excited hearing that it had giant jacuzzi bathtubs that could fit all five of us in. Comfortably.
Walking through what I can only describe as akin to the front door of a mansion, it took a few seconds to adjust our eyesight to the gold everywhere. Then we found a guest bathroom, office with desk and iMac, casual living room and sweeping staircase up to the bedrooms with a working clock projected onto the wall. Before heading upstairs, we were taken through the double doors at the end of the casual lounge to reveal a more formal lounge, dining room seating ten, kitchen and butlers entrance.
By this time, the kids had already run around and explored the entire suite. Twice. We met them upstairs with its master bedroom, seating area and dressing room and then a second bedroom, equal in size but with a dressing area rather than a dedicated dressing room. Both ensuite bathrooms have a shower and bath that would meet the requirements of most guests and their entourage. I nearly forgot; every master bed has a ceiling mounted mirror so remember to take take the eye masks from your flight.
Room categories
There are 202 luxury duplex suites:
142 one bedroom suites.

28 two bedroom suites.

18 panoramic suites with one bedroom.

4 club suites with one bedroom and pool table.

6 diplomatic suite with three bedrooms.

2 presidential suites with two bedrooms.

2 royal suites with two bedrooms and a rotating bed.
You can see latest pricing and availability and make a booking here
Day 2 - The Terrace
It didn't take long to unpack thanks to our Amazon packing cubes, considered as the best thing since sliced bread, so we headed down to the pool deck and then again on our second day.
This wasn't part of the original hotel construction, but in true Burj Al Arab style, it's magnificently opulent and designed to service even the most discerning of customers. I may be one of those fussy customers, but the complimentary amenities delivered every couple of hours certainly helped.
We tried out most of the facilities including:
1 saltwater swimming pool.

1 freshwater swimming pool.

4 hot tubs.

24 cabanas.

8 royal cabanas.

1 restaurant.

2 bars (one swim-up).

1 underground changing room and shop complex.

poolside spa treatments.
The Royal Cabana
We had friends staying at The Atlantis, so they joined us for the day, and I booked a Royal Cabana by the saltwater pool at the end of the deck. There are smaller two-person Standard Cabanas which we took for the other days of our stay, mostly so the kids could stay out of the sun and my wife could stay out of the shade.
To take full advantage, I checked into the Royal Cabana at 8am then after breakfast nipped over to The Atlantis to collect our friends. You do feel like royalty in a Royal Cabana, with hotel staff never more than an earshot away should you need anything. You can relax on a sun lounger all day if you want with everything coming to you without ever needing to get up off the bed.
We absolutely loved these and would highly recommend them if you can justify the whopping daily price tag.
Royal Cabanas start at GBP £1,000 (discounts available for hotel guests)
Standard Cabanas GBP £450 (can also be booked for half days)
Restaurants
We sat outside for the breakfast buffets which had more than enough choice for us although the kids did gravitate towards the pancake station. For lunches, we ate at the poolside restaurant Space or in the Cabana.
There were many other restaurants, all I'm sure, equally as great.
One night we ate in a restaurant in the nearby Madinat hotel and then for our final night, we joined our friends for the buffet dinner at The Atlantis.
Bars
This was a family holiday with the kids so we couldn't really use the bars, but I've had evening drinks at both the poolside terrace and 24th-floor Gold Lounge which had a price tag to match their exclusive atmosphere.
Beach
We didn't visit the beach during this time, but there are sections of the main Jumeirah beach reserved for Burj Al Arab guests. You take a short hotel buggy ride from just outside the lobby.
What does it cost?
Where do I begin? It's expensive, there's no getting away from that, but I guess it's relative so you'll need to decide this yourself.
Offseason you can get deals from around £1,000 per night for the one-bedroom suite or £2,500 for the two-bedroom suite. The bigger options are rarely discounted and you're looking at £5,000+ for the three-bedroom diplomatic suite and £10,000+ for the mammoth Royal Suite (there are two of these and they take up the entire 25th floor).
For latest pricing and availability and make a booking here
Nice touches
As you'd expect from an ultra, ultra, luxury hotel, they go above and beyond.
If they catch you carrying your own bags, a butler is swiftly dispatched to assist.

A daily visit from the dancing butlers to your suite with a mobile pick-n-mix station of candy and chocolate.

Your preferences are carefully noted and butlers adjust fruit baskets, room temperature and bath salts accordingly.

Packing and unpacking service with Burj Al Arab branded tissue paper between layers.

Helicopter transfers if you want to escape the Dubai traffic for that private jet.
In summary
A one-off experience that we will likely do again and again; it's so hard to fault the hotel. I don't even think that 'hotel' is the right word, 'Palace' is more fitting.
Would I stay again?
Absolutely yes and we've been lucky enough to stay four times now. However, I've heard the One & Only Royal Mirage is also great for family holidays and lighter on the wallet..
Would I recommend it?
Yes and no. If you can do it, then stay for a few nights (the average stay is 2 nights) for the bucket list experience and kudos. It is a truly memorable experience. For more extended stays, I would look at hotel options with a balcony as you may want to appreciate the Arabic weather rather than being in a glass-encased suite.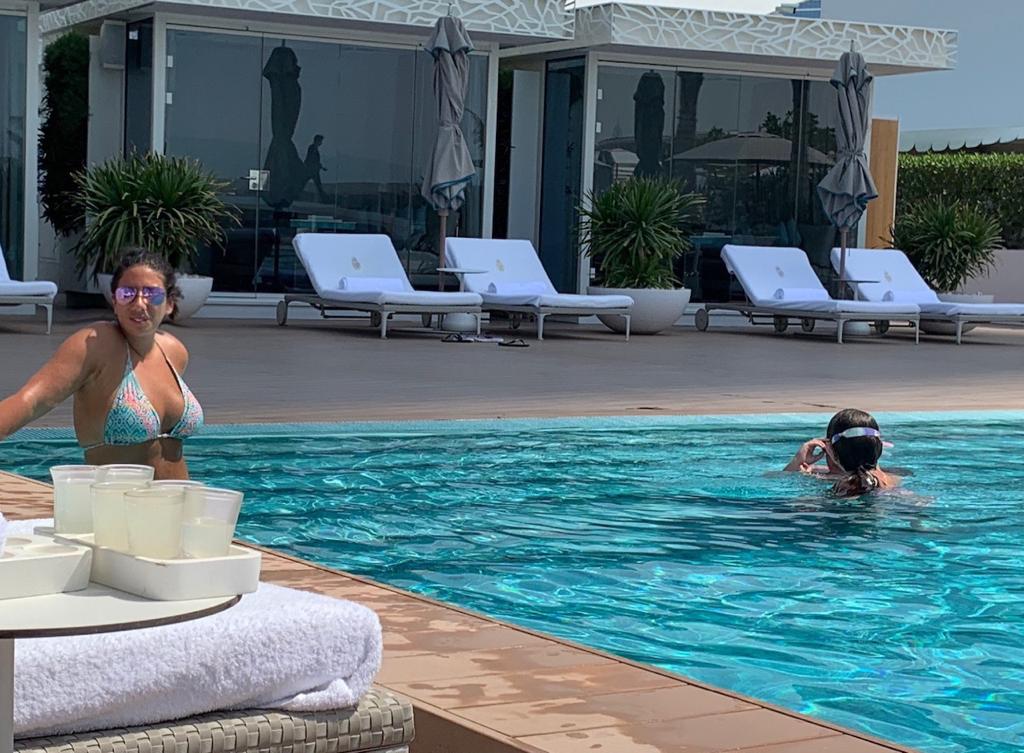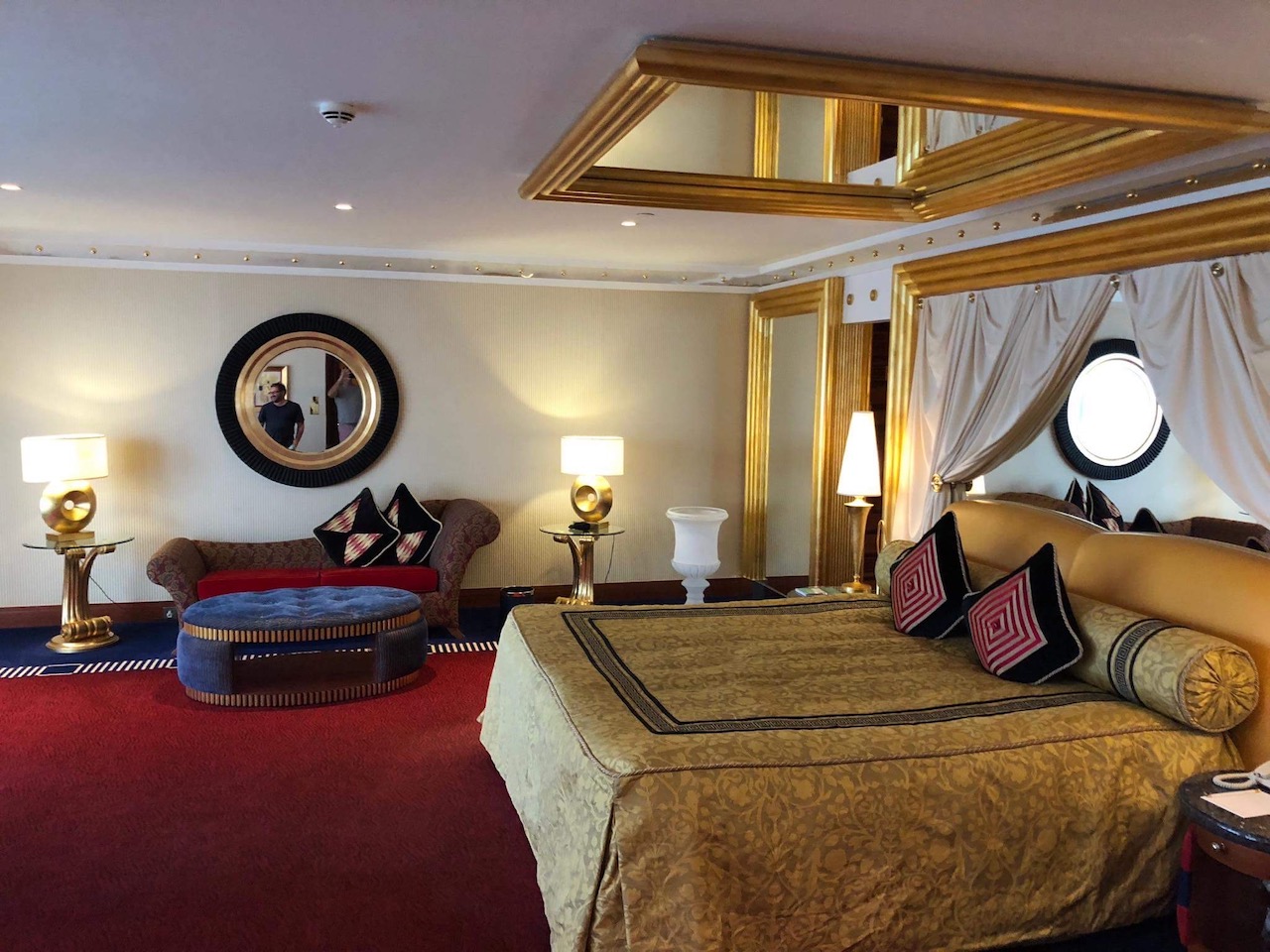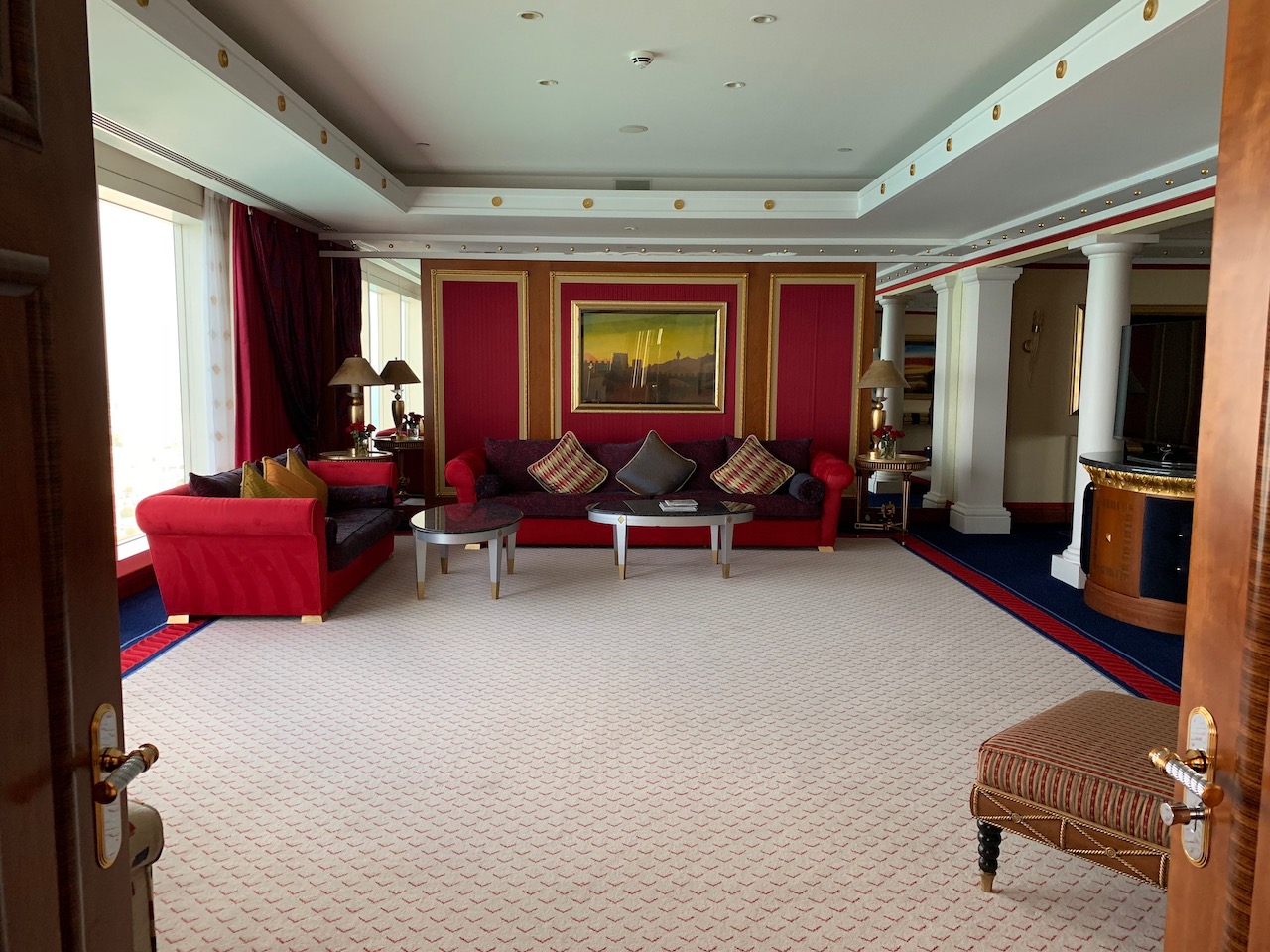 Facts and figures
Here are a few interesting facts about the hotel including some little known ones:
At 321 metres (1,053 feet) it is the tallest all-suite hotel in the world

Also one of the tallest buildings in the world

And the tallest single structure on a man-made island

The support pylons go 45 metres deep, under the sea

The hotel's marble is the same rare one that Michelangelo used

Despite the hotel's height, there are only 28 double-storey floors

It sits on a man-made island 280 metres from the shoreline

The shape of the hotel was designed to look like an Arabian ship's sail

The sail Is made of double-skinned, Teflon-coated woven glass fire

The hotel atrium is the largest atrium in the world, measuring 180 metres (600 feet)

Decorations include 1,790 square metres (19,270 feet) of 24-carat gold leaf
Other Dubai hotels
Some of the other luxury hotels I will be reviewing in Dubai are The Atlantis and One & Only The Palm.
For more information on Burj Al Arab visit jumeirah.com
For latest pricing and availability and make a booking here